Go to the bottom for the latest chart.
This chart (blocks produced per week) may be of interest to the core devs as they plan the timing of the hard fork for the Merge.
Blocks produced per week stands in for the number of seconds it takes on average to produce a block, which stands in for the effect of the difficulty bomb.
Here's the repo for the 'R' code that creates the chart: tokenomics/explorations/difficulty at main · TrueBlocks/tokenomics · GitHub. The data was created using this code: trueblocks-core/difficulty.cpp at fc4edc17c75739393e93add4ef805c137b747b03 · TrueBlocks/trueblocks-core · GitHub.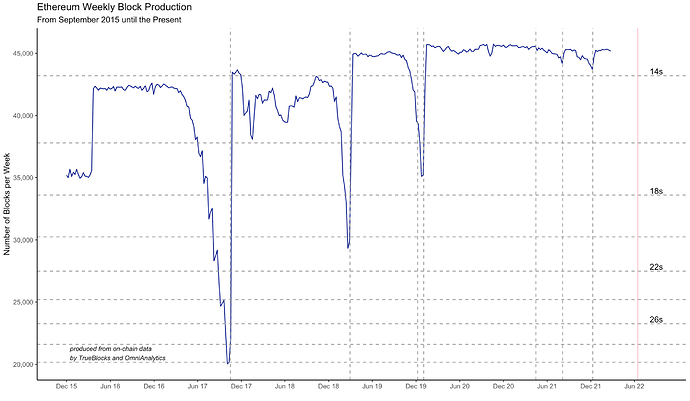 The vertical dashed grey lines are the hard forks.
The pink vertical line is June 15th
The horizontal grey dashed lines are how many blocks would be produced in a week if the per-block production were 14 seconds, 16 seconds, 18 seconds, etc.
I think it will be pretty easy to see where the bomb is in its 'explosion.' You can see that it stays pretty flat until it goes off, but once it goes off, it really does explode.
I'll try to produce this once a week (on Friday's), but if I forget and you'all find it useful, please poke me.
This data was produced with TrueBlocks, which all you'all should check out. It's really good for data science with on-chain data.
Thanks to OmniAnalytics and Tim Beiko for helping me get this done. Hope it helps.
Cheers.