This is a really interesting project, thanks for sharing. I agree with you that it seems unlikely to work but they do seem to have thought through a lot of potential problems.
The obvious attack vector is that validators could collude with other validators / potential validators by sharing their "flip"s ahead of time and thus letting their peers cheat on the Turing test. One could even use steganography to create flips that are in fact solvable by AI, for instance by ensuring that on all correct images the pixel in column 200, row 345 has a red value >= 100 whereas on all incorrect images it has a red value < 100. A complex enough encoding scheme could be undetectable or at the very least plausibly deniable.
The "Flip Distribution" section of the FAQ tries to address this, but the solution is to disallow users in the same family tree of invited accounts from solving each other's flips using a "genome code". The "genome code" concept seems overly simplistic and it seems unreasonable to expect that people with different genome codes would never collude simply because they weren't invited to the network by the same people.
Additionally, if the randomness algorithm that chooses which flips are assigned to which users is on-chain and auditable, it can be predicted ahead of the time who will have to solve whose flips, meaning that it can perhaps be gamed (e.g. by strategically buying accounts).
Also, I tried to solve the flips they had on their website, and they are really hard!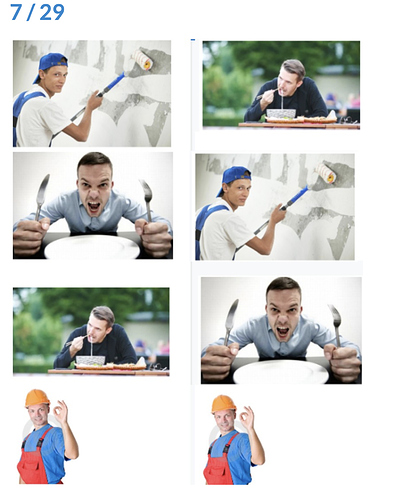 What the hell is going on here? In addition to the narrative not making sense, I can't even tell if these are supposed to be the same person in the pictures. Their faces don't look the same at all (especially between the man yelling at an empty plate and the man eating) but if there are multiple characters in this story making them all white men with short brown hair was a terrible choice.
Anyway, it seems really unlikely to me that all humans will be equally skilled at solving these. Not only do they seem to require certain cultural assumptions to solve, at times they almost feel like an IQ test. On a philosophical/political level, it feels like it will be controversial for this network to create a "test for personhood" that e.g. autistic, unintelligent, atypical, etc etc people might not qualify for. On a technical level, it means that certain use cases are beyond the scope of this platform.
In general though, it seems unlikely to me that they can make the challenges easy enough that the majority of people can solve it but still difficult enough that there isn't anyone who can solve it at 2x the speed and thus create two identities. I would even imagine that there are people who can at least 5x this challenge, especially if we allow for practice.
Also, while the protocol has protection against people making the challenge too hard, there is nothing preventing them from making it too easy. If the flips become so easy that, say, a human can solve them 20 times faster then the protocol expects, then it seems like everyone will end up with many identities and the chain will start to degrade into more of a typical proof-of-stake chain where it's possible for oligarchies to form and so on. It could be possible that large groups of colluding users would have an incentive to make this happen and thus increase their power.