We've been working on this fractional-reserve, algorithmic stablecoin called Frax. The basic premise is that we layer this over a collateralized stablecoin such as Dai and use interest from compound.finance loans to stabilize the price to $1 to 1 Frax algorithmically changing the supply of Frax.
There is a 2 token system: Frax, FRX (the stablecoin) and Frax shares, FXS (the investment token)
The system starts 1:1 backed (reserve ratio of 100). For every 100 Dai you put in, you mint 100 FRX. The Dai is then lent out (either through the compound finance smart contract itself or the exact implementation within the Frax contract). The cash flow from the interest rate earned through the loan is accrued into the smart contract. Once there is a sufficient amount of interest earned, the reserve ratio goes down by X. If X=1 then for every 99 Dai you put in, you mint 100 Frax. The difference in the reserve ratio (aka X) must be paid in FXS as a fee (which is burned out of circulation) so that value isn't leaving the system but instead captured by the investment token. The investment token, FXS, is essentially valued as the net future fiat value creation of the network in perpetuity.
If the market price of FRX holds at $1 1 FRX then the reserve ratio continues to go more and more fractional by increasing X as more interest cash flow comes in. If the FRX price drops because the market only values FRX based off the backing collateral, then the accrued cash flow is used to buy back FRX and "walk back" the reserve ratio to the market's value of 1 FRX $1. At all times, there is a small amount of Dai that is always kept in the contract to exchange out for FRX for easy redemption.
Essentially, this is a system to algorithmically measure the market's value of the "monetary premium" of a currency. This can be used to scale Dai and allow DeFi loans to provide monetary policy/stability.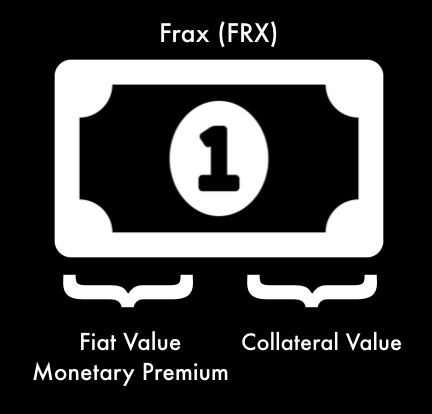 Once there is sufficient monetary premium built into FRX, you can even remove the backing of Dai and make it entirely a fiat stablecoin and simply mint new FRX.
Any ideas/feedback on this system?