It seems the Eth community may have missed some valuable prior art, from 1988 by Mark Miller and Eric Drexler:

The premise is simple, resembles current patterns emerging in the eth ecosystem, reduces network traffic, and results in a highly efficient gas market.
You can think of it as "spectrum transactions" in a single message (if you're familiar with those).
Proposed change
The gasPrice field is now optional, but if missing must be replaced by the following fields:
firstValidBlock: The first block this transaction is valid to be processed on.
minGasPrice: The lowest price a person is offering to mine their transaction, eligible on firstValidBlock.
gasIncreasePerBlock: A gas price increase per block.
maxGasPrice the ceiling gas price that this transaction can be processed for.
Effectively, this allows a person to determine the max price and the max time that they would like to wait for a transaction, and ensures they get a fast and cheap transaction otherwise.
This image shows a hypothetical price market over time: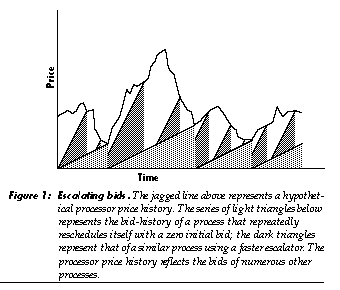 The various triangles represent various transactions waiting for the current highest offered price to lower to them, at which point they "break through" the ceiling and are processed.
I just thought it would be valuable to put this out there for consideration, since there is active discussion on improved gas price models.