Very interesting! Opside had proposed a similar design earlier.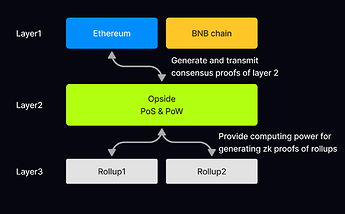 Layer 2
PoS: Opside will adopt the PoS of ETH 2.0 and make necessary improvements. As a result, Opside's consensus layer will have over 100,000 validators. Anyone can stake IDE tokens to become a validator. In addition, Opside's PoS is provable, and validators will periodically submit PoS proof to layer 1. Validators can earn from block rewards and gas fees in layer 2.
Layer 3
PoS (Sequencer): The validator proposes not only layer 2 blocks but also layer 3 blocks(i.e. data batch); that is, the validators are also the sequencers of the native rollups in layer 3. Sequencers can earn the gas fee from the transaction in layer 3 transactions.
PoW (Prover): Any validator can be the prover of a native rollup as long as it has enough computing power for zkp computation. Provers generate zk proofs for each native rollup in layer 3. A prover generates zk proof for each block of layer 3 submitted by sequencer according to the PoW rules. The first submission of zk proof will get the block reward of layer 3.