block-builders are incentivized to censor / ignore Tx to reduce BASEFEE, to make MEV bundles more profitable.
*this post expands on the discussion with @vbuterin during the MEV Salon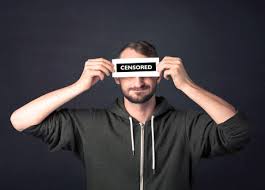 In Vitalik's slides

from yesterday he points out that censoring is costly:
if a censored Tx has a Priority Fee of P
the censoring block-builder is always at a disadvantage of P compared to other block-builders who will attempt to include this Tx
Censoring block-builder will pay P (or lose a revenue of P) in every block until the Tx confirms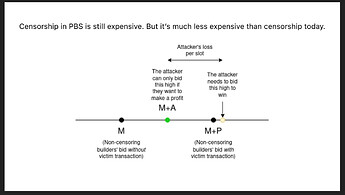 This sounds pretty straightforward, and that it would be too costly for block-builders to censor Tx.
I want to provide additional data on block-builders incentives, which paints a different picture:
Under PBS, validators "blindly" pick the block which pays them the most

Block-builders construct blocks aiming to maximize MEV, with either their own MEV Tx or MEV bundles received from MEV Searchers.

Looking at a few random bundles on zeroMEV you can see that MEV Searchers burn $10-$50 in BASEFEE in every bundle

If BASEFEE was somehow pushed down, these bundles will produce more valuable blocks.

While the BASEFEE is significant, the priority tip isn't: ~$0.05

Key Insight: due to eip-1559, Tx cost >> Tx tip so block-builders profit is much more sensitive to their own cost Vs. the tips from other Tx
So, what should a cut-throat MEV-maximizing block-builder do?
probably one of two options:
Push BASEFEE down, by
increasing the gas limit while constructing 15M gas blocks, or

Ignoring (i.e. censor) 100 Tx, paying $5 to be comparable to other builders, and repeat for 20 blocks (total cost $1,000)
return to 15M gas blocks with 30M gas limit, increasing MEV revenue by ~$25/block, so effort pays itself within a few hours

fill blocks only up to 15M gas, delaying other Tx to times where there are less Tx, unless their tip makes up for the cost pushing the BASEFEE down again afterwards

Welcome back to First Price Auction (FPA)!
The problem is worsen by the fact that each block-builder knows that all the other block-builders are similarly incentivized.
For the record - I think there are ways to improve PBS, some of which we've been discussing and exploring (here). And we at bloXroute are running both a "regular" block-builder and a "good" block-builder which avoids front-running.
But I am very surprised that while eip-1559's economics were thoroughly considered, PBS is being released in the wild and I don't think anyone knows how things will play out in terms of block-builder competition, economic effects, centralization of Tx flow.
@vbuterin - is my argument clearer now?
Yes, you could obviously set the gas limit in-protocol, but block-builders could still take the 2nd approach. You could then introduce crLists, but if we're counting on validators altruism, why not just use the crLists for "fair ordering" like Ari Jules is suggesting?
I don't know, we probably need a spec before we can analyze the incentives and implications of crLists, but I don't think we can just punt it as a solution.