There are currently approximately 450 000 Ethereum validators.
They could be used for additional tasks, for example validating not only L1 Ethereum, but also L2 and L3 "Official Ethereum Rollups" :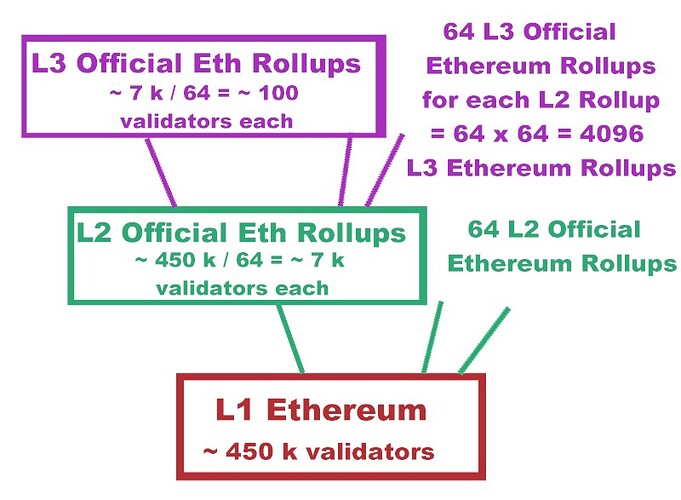 Each of the 450 000 Ethereum validators could be randomly assigned to one L2 Official Ethereum Rollup and one L3 Official Ethereum Rollup.
The security level would be better than current "unofficial" rollups, because if some validators don't fulfill their L2 and L3 tasks, they could face a ban or a slash.
Each layer would have its own role :
L1 Ethereum would be dedicated to "important" transactions requiring maximum security, just like it is currently.

L2 Official Ethereum Rollups would provide reduced fees, in exchange for a slightly lower security. For example, some artists could choose one of the 64 L2 Official Ethereum Rollups to mint their valuable NFT with reduced fees.

L3 Official Ethereum Rollups could offer zero fee transactions, in exchange for a slightly lower security. It could be used for gaming token, or for fan tokens enabling each influencer to create a micro-economy, by selling or giving away fan tokens. These use cases require massive microtransactions with zero fee.
Zero fee would be reachable on L3 Official Ethereum Rollups, because the maintenance cost would be very low :
the cost of development would be shared between the 4 096 L3 Official Ethereum Rollups, because it is the same software.

the cost of validation would be very low, because validation on L2 and L3 Official Ethereum Rollups would just be a side task, an additional task assigned to Ethereum validators.

the cost of storage could be limited if anti-spam measures are implemented to limit the number of transactions. For example, on the L3 client, looking an ad could be required every few microtransactions. And since microtransactions are not very valuable, there would be no need to store the history of each L3 rollup on thousands of computers.
More, these ads could provide long term resources to the Ethereum foundation.
Online ads are a major source of revenue for organizations whose wealth rely on information, like Meta, Google, Tiktok, …
Online ads running on the L3 client and offering zero fee transactions could become a major source of revenue for the Ethereum foundation.